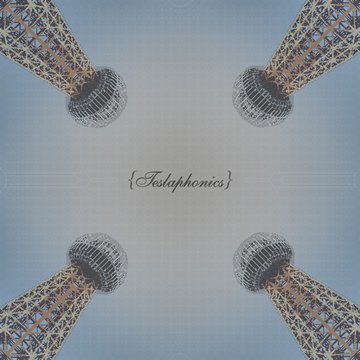 Adam Kadmon
makes rap music that draws from a multitude of sources and clearly reflects the stew of sound that we encounter on an average day of listening in the aftermath of the blog era. I just googled his name and apparently it references a
Kabbalistic character
that is the primal soul of all mankind. Good starting point.
Teslaphonics
is hip hop with all its circuits bent, but not to the point that your ears get overloaded. This is lo-fi, scratchy like vinyl and full of strange tones that linger in the rhythm. Some sound like they are banging out of a bomb shelter symphony (Hark the Herlad), and others sound like they were heard at the Circus-Circus while Hunter Thompson was tripping on ether (Nuggets). His vocal delivery is swag enough to have the current crop of post-Kanye-rappers shaking in their vintage sneakers, and filtered through static like a transmission from earths last radio. The lyrics are poetic, drawing abstract metaphors together with sci-fi braggadocio and vivid images from some brokedown noir film. Wild lines I can decipher include:
he held a sign in his hand that said spare change please / and in large bold letters GOD DONT HEAL AMPUTEES
, and
heavenly trumpets playing from the beaches / kids shooting up the school while they layin with their teachers,
and
I got a coin-operated laundry list of demands / assisted living off the skin off the palms of my hands / skin of our teeth, our lives are intentionally brief / to keep the meaning of it all insufficiently deep
. Clearly you will need to think about these songs and thankfully they are engaging enough to warrant many repeat listens. This record is part of the slew of free releases from the good people at
World Around Records
, who are committed to developing artists that are creative, honest and personal. Adam Kadmon is, at the very least, all of the above, and this record has me wondering what strange landscapes his music will bring me through in the future. I will certainly be listening.